Jana Steger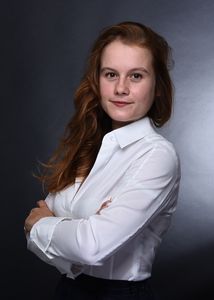 Research Interests
Trauma Minimization in Surgery
Development of transluminal manipulator systems
Implant development
Additive manufacturing (OP instruments, implants)
---
CONNECT
Transluminal Anastomosis in the Gastrointestinal Tract
One of the most frequently performed operations in visceral surgery is the removal of pathogenic bowel segments. Indications for such operations can be benign and malignant diseases such as tumours.
In order to restore the patency of the digestive tract after the removal of an intestinal segment, the ends of the intestine must be rejoined. This procedure is called anastomosis. In addition to conventional suture and stapling techniques, implants can also be used to create a liquid- and gas-tight anastomosis, i.e. reconnection of the intestine.
The aim of the project is the development of an ubiquitously applicable, transluminal, size-scalable anastomosis system, which allows the microinvasive realization of anastomoses in large parts of the gastrointestinal tract and thereby avoids the disadvantages of current anastomosis methods.
The CONNECT project is funded by the German Research Foundation (DFG) (funding code: 386233407)
Please feel free to contact me directly if you are interested in a bachelor/semester or master thesis.
Publications
Steger, Jana, Stefanie Ficht, Daniel Ostler, Alissa Jell, Hubertus Feußner, Petra Mela, Markus Eblenkamp, and Dirk Wilhelm. "Anastomoses in Visceral Surgery-First Approach towards a Universal Transluminal System for Micro Invasive Application." In 2019 International Conference on Computational Science and Computational Intelligence (CSCI), pp. 983-986. IEEE, 2019.
Expert Lectures
IEEE CPS - CSCI 2019: Anastomoses in visceral surgery - first approach towards a universal transluminal system for micro invasive application
T-Plas - 2nd Medical Plastics Engineering Symposium 2019: Highly Function-Integrated Plastic Instruments for Minimally Invasive Surgery
---
Ongoing Student Research Projects
SA: "Weiterentwicklung eines intraoperativen Kraftmesssensors inklusive normiertem Kalibrierprozess für die Auslegung von minimalinvasiven chirurgischen Manipulatorsystemen"
MA: "Entwicklung eines Kraftaufbringungs-/übertragungsmechanismusses für einen Endoskopaufsatz zur transluminalen Anastomosierung"
BA: "Ermittlung der Kräfte beim Anastomosenschluss"
SA: "Entwicklung eines Darmmodells zur realitätsnahen Validierung unterschiedlicher Anastomosierungsmethoden"
---
Completed Student Research Projects
2020
MA: "Entwicklung eines skalierbaren NOTES-Applikatorsystems zur Vorbereitung einer End-zu-End Anastomose im Colon"
SA: "Determination of the Forces Occurring During the Manipulation of Tissues Throughout Laparoscopic and Endoscopic Surgery"
2019
SA: "Entwicklung, Konstruktion und Prototypenerstellung eines zweiteiligen Implantats zur Darmanastomosierung"
SA: "Evaluation der Druckverteilung in porkinem Darmgewebe für die Entwicklung eines Anastomoseimplantats"
MA: "Konzeptionelle Entwicklung eines minimal-invasiven, größenskalierbaren Darmanastomosierungssystems"