ARTEKMED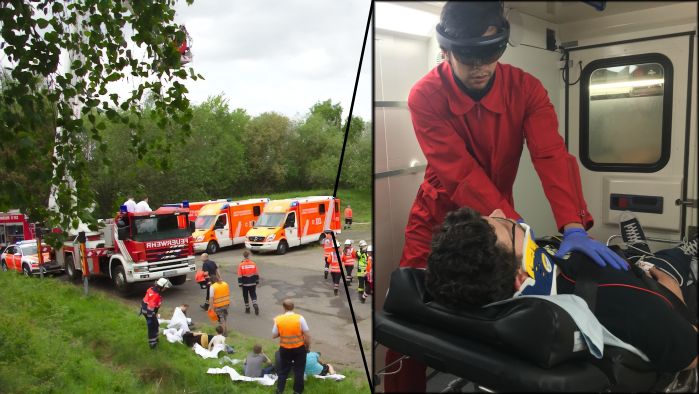 Not on site, but still available: Virtual presence in the medical emergency area.
MOTIVATION
When a large number of injured people are in one place, all available experts are needed immediately, both at the scene of the accident and in hospital. To ensure the quality of diagnosis and treatment, it should be possible to call in external expertise to support the auxiliary staff on site.
GOALS AND PROCEDURES
Within the framework of ARTEKMED, a telepresence system for medical consultation using augmented reality is being developed for use at the accident scene and in the clinic. The system allows all available but not on-site experts to be brought virtually to the scene of the accident for consultation in order to support the attending physicians in diagnosis and treatment. For this purpose, technical solutions for 3D reconstruction in real time, for determining the position of the participants as well as for efficient and secure communication will be developed. Furthermore, the project will also investigate social aspects such as the acceptance of digital doubles in accident situations.
INNOVATIONS AND PERSPECTIVES
The innovation consists on the one hand in the development of new algorithms for telepresence, which are specifically optimized for medical support in emergency situations. On the other hand, ARTEKMED will help to better understand the psychological aspects of the use of augmented reality, and it also offers solutions for improved interpersonal communication based on this technology..
Contact:
Kevin Yu, M.Sc. (Research Assistent & Ph.D. Student)
Project website: http://www.artekmed.de/