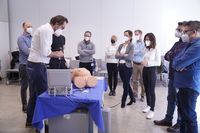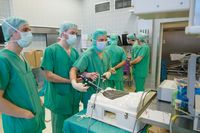 We are fully booked! We will offer more courses in the future.
Dear interested reader,
we are glad to announce our 20th training course for engineers.
The course will take place on 10th/11th of November 2022.
When interested, do not hestitate to contact us via chirurgiekurs@mitigroup.de
Best regards,
Dear Sir or Madam,
hands-on intensive training course: "Surgery in Practice" will be organized by the research group MITI on November 10th and 11th, 2022. The aim is to promote mutual understanding and enhance the interaction between theory and practice in the technical and medical world. This project is supported by the DGBMT - German Society for Biomedical Engineering in the VDE and the CTAC - Section for Minimally Invasive Computer and Telematic Assisted Surgery of the German Society for Surgery (DGCH).
Prof. Dr. D. Wilhelm Dr. B. Habenstein
&nbs