Another cover for IBMI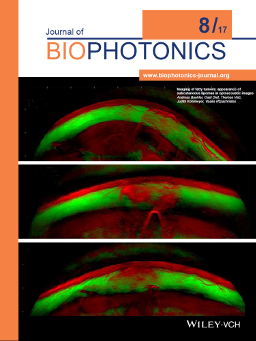 The IBMI-developed handheld MSOT made it to the cover of the Journal of Biophotonics by demonstrating its outstanding performance in visualizing lipomas, the most common benign tumor in soft tissue.
Lipomas are heterogeneous in nature and as such their sonographic appearance can vary tremendously. Distinguishing them from non-malignant soft tissue using ultrasound as the current method of choice is quite challenging. Using our handheld MSOT, we were able to demonstrate that optoacoustic imaging is an excellent complement to ultrasound with the potential to improve diagnosis of subcutaneous soft tissue lesions in the future. The article entitled "Imaging of fatty tumors: appearance of subcutaneous lipomas in optoacoustic images" by Bühler et al. has been published in the August issue of the Journal of Biophotonics.
Orignal Article: Bühler et al., Journal of Biophotonics, Volume 10, Issue 8, p 983–989(2017)